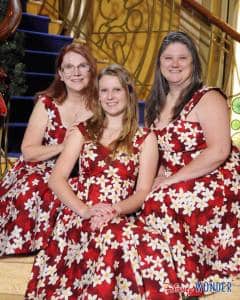 The travel agent specialists of Create The Moment Travel are available to help you.  Whether you are planning a destination wedding, honeymoon, family vacation, or a just a quick getaway – we can help you! We have specialty knowledge in destinations all over the world including Mexico, Hawaii, Alaska, Europe, South Pacific, Bahamas, and Caribbean as well as ocean and river cruises in Alaska, USA, Caribbean and Europe. You want to go there, we can get you there!
Create The Moment Travel, and in particular, owner Connie Riker, has been recognized by USA Today and Bride's Magazine as a Destination Wedding & Romance Travel Specialist.  Connie is certified by the Gay Wedding Institute  and looks forward to the time when ALL couples in love can legally marry.
Judy, Cassie & Connie Riker – Three generations ready to help you – let us be YOUR travel agents!
Create The Moment Travel Owner, Connie Riker, was featured in Bride's Magazine as a Romance Travel Expert!

We also specialize in Special Needs Travel – autism, limited mobility, traveling with a service dog – we understand and can assist!
Remember, the internet is for looking, but Create The Moment Travel is for booking!
Some very happy customers:

Our specialties include:
Asia: Thailand, Vietnam, Cambodia, Laos, Burma, Philippines, Japan, China, India
Africa:  South Africa, Botswana, Namibia, Zimbabwe, Mozambique, Madagascar, Zambia, Malawi, Tanzania, Rwanda, Uganda, kenya
Mexico & Caribbean:  Cancun, Cabo, Puerto Vallarta, Cozumel, Isla Mujeres, Jamaica, Bonaire, Aruba, Curacao, Dominican Republic, St. Lucia, Puerto Rico, etc
Europe:  Italy, Germany, United Kingdom (England, Scotland, Wales), Ireland, France, Spain, Portugal, Croatia, Greece, Norway, Iceland, European River Cruises
South Pacific:  Tahiti, Fiji, Cook Islands, Australia, New Zealand
USA:  Alaska, Hawaii, California, Florida, and various national park and wellness destinations
Cruises:  River cruises in Europe and Asia; Various Ocean Cruises, in particular the more all-inclusive lines
Don't worry – if it's not listed we can still help you.  As travel agent specialists, we have amazing resources that allow us to meet almost every need.
Save