Your Honeymoon Consultant & Destination Wedding Specialist is one of the best!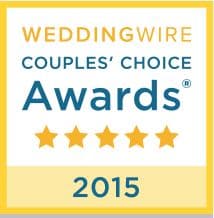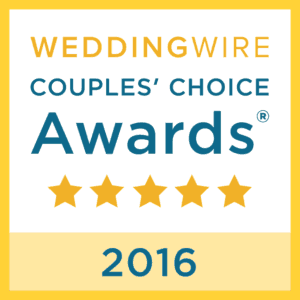 You want the best working for you and this is your chance – whether it is a destination wedding or your honeymoon we can make your dreams come true and make your life easier during this stressful time of your life.  You will be able to relax and enjoy!  Connie is proud to be one of a very few to be certified by the Gay Wedding Institute to work with LGBTQ families – we truly believe Love Is Love and know just the right "gay-friendly" vendors and resorts to work with to make your honeymoon or destination wedding fantastic!
Create The Moment Travel is in the top 5% of wedding professionals nationwide!  It is our job to make it easy to plan your destination wedding!  Making your wedding seem easy (for you) is our job as well as planning your fantastic honeymoon.
Create The Moment Travel Owner, Connie Riker, was featured in the Oct/Nov 2014 Issue of Bride's Magazine as a Romance Travel Expert!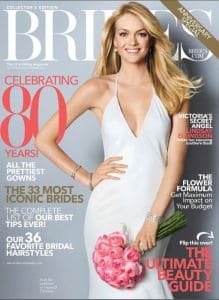 Why should you trust us to plan the most important day of your life?
We maintain and continue to develop relationships with the most elite properties worldwide.
Our Certified Destination Wedding Specialists are passionate, experienced and receive continuing education throughout the year.
We will work with your vision and budget to help you find competitive packages for you and your guests.
Planning a destination wedding on your own can be overwhelming.
When you partner with Create The Moment Travel to bring your vision to life, you are ensuring peace of mind for you and your guests. You'll receive personalized, expert guidance throughout your entire experience.
Our knowledgeable specialists receive extensive training, participate in continuing education courses and go on frequent premier property familiarization trips. Your specialist will help you find an extraordinary destination and resort that matches your discerning taste.
As Destination Wedding Specialists, you receive the benefit of our expertise and the added value and benefits our specialty provides.  Many resorts provide our clients with extra benefits just because you are working with us.
Group travel is complicated – we make it easy for you.  We handle all of the details relating to the travel for your wedding and ensure everyone is handled with courtesy and professionalism; leaving you free to enjoy your wedding experience!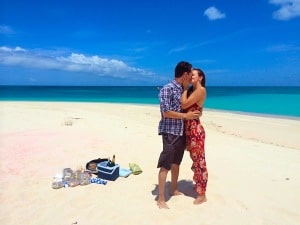 For your honeymoon, proposal trip, or other romance travel we can arrange the most romantic experiences!  The photo below is from a very special proposal trip that included a surprise tropical resort destination, a helicopter trip to a private beach, and a proposal with the pilot prepared to take photos and with a romantic picnic for two afterwards (where the pilot disappeared for a hour or so).
About the Couples' Choice Awards
The WeddingWire Couples' Choice Awards® recognizes the top 5 percent of local Wedding Professionals from the WeddingWire Network throughout the United States, Canada and abroad that demonstrate excellence in quality, service, responsiveness and professionalism. Unlike other awards in which winners are selected by the organization, the WeddingWire Couples' Choice Awards® are awarded solely based on the reviews from over 200,000 newlyweds. Awards are determined by a combination of excellence in four factors: overall rating (quality), total number of reviews (quantity), review performance from 2014 (recency), and consistency of reviews from year to year (consistency).
Please enter your contact details and a short message below and I will normally answer within 24 hours.
Save
Save
Save
Save
Save
Save